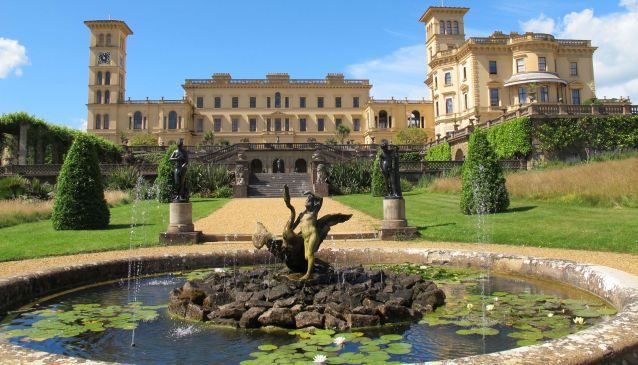 A Very Victorian Island
Arts & Culture
...when a huge fin whale was found...Dabell bought the whale at auction...
The history of the Isle of Wight dates back to the Iron Age, with much evidence of settlement being discovered through archaeology and also through some ancient structures which still stand today. Some of the earliest evidence of settlement on the island comes from the Roman conquest of Britain in 43AD, as there was a Roman presence by 50AD and by 170AD the Romans had set up home in Brading and Newport. The Brading Roman Villa and Newport Roman Villa are now open to the public, and are just two top Isle of Wight attractions from this era.
Before Queen Victoria?
By 1801 the population of the Isle of Wight was recorded as 23,687 and in around 1821 the population of Ryde was recorded as having risen from 600 people to 3,000 in just 25 years! However, the era of history thought to have had the biggest impact and to which we can thank for many of the buildings on the Isle of Wight, is during the reign of Queen Victoria…Victorian times. In 1831, a 12 year old future Queen of England – Victoria - visited the Isle of Wight on holiday at Norris Castle. The island made a real impression on Queen Victoria and in 1845 she acquired the Osborne Estate.
Queen Victoria's Isle of Wight
Osborne House was completed in 1851, having been re-designed and built as Queen Victoria's holiday home. She wrote "It is impossible to imagine a prettier spot." Queen Victoria spent much of her time living here, along with Prince Albert and their nine children. Osborne House is now open to the public and looked after by English Heritage. Find out more in the following video…the sound quality is not great but it's interesting stuff!
TheHistoryChannelUK, YouTube.
Queen Victoria had a massive influence on the Isle of Wight during her time here. She really helped to put the island 'on the map' as a holiday destination. Charles Dickens wrote much of David Copperfield whilst staying here and various other well-known Victorians holidayed here, perhaps due to the island now being seen as a rather fashionable place to visit, loved by none other than royalty!
In 1800, Blackgang was a "wild and desolate place - frequented by none other than local fishermen, during the mackerel season. There were also rumours of a thriving smuggling trade!" according to today's Blackgang Chine. Although a hotel has already been built in Blackgang by the 1840's, it was Alexander Dabell, an innovative businessman who saw the real potential in the Blackgang gaunt and chine. He concluded a lease in 1842, knowing that the Victorians were keenly looking for new health and holiday resorts. With the railway getting ever closer to the Isle of Wight also, Dabell decided that some kind of gardens would appeal to Victorians. Pathways were built and gardens were landscaped, along with steps being built down to the beach. However, it was missing something to really draw in the crowds. So when a huge fin whale was found stranded close to The Needles, Dabell bought the whale at auction and had the huge whale skeleton transported to a specially built hut at Blackgang Chine. This became an attraction within itself to the strangely curious Victorian crowds. In fact, this soon became a tearoom, where you could enjoy a cuppa whilst sitting underneath the skeleton! Recently the BBC aired a very interesting programme called Britain's First Photo Album, which was all about the victorian Blackgang Chine. You can watch it on YouTube here.The addition of the Isle of Wight Railway, with the first line opening between Cowes and Newport in 1862, made holiday travel on the island even more attractive and accessible. Following this, the Island Line (which still runs from Ryde Pier to Shanklin) was opened in 1864, being extended to Ventnor in 1866. A few more towns and villages were reached by railway track over the following years, but the only line still existing for today's travellers is the Island Line. The IW Steam Railway runs for five miles from Smallbrook Junction, via Ashey and Havenstreet through to Wootton, these days as a popular tourist attraction.
There were many Victorian influences on the Isle of Wight. Perhaps one of the most affected towns was the Victorian town of Ventnor. Although in existence as a settlement before these times, it was the Victorians who grasped Ventnor and built her into the town she is now. Cleverly building on the steep hillside that is the backdrop to the pretty little bay and building an esplanade and pier, Ventnor became a thriving seaside town, perfect for bathing and breathing in the healthy sea air. Now, you will see that much of Ventnor's buildings are Victorian, often identified by their high ceilings, sash or bay windows and beautiful ornate fireplaces. This is indeed the case throughout the island, with much architecture being Victorian.
The end of an era…
After her beloved husband Prince Albert died, Queen Victoria became a recluse in mourning for around 25 years. She died at Osborne House in January 1901. However, it was not just the Isle of Wight that saw great change in the Victorian times… during her reign she had doubled England in size and kept Britain (almost!) free of war.
Finally, here is our video of Osborne House in the present day!