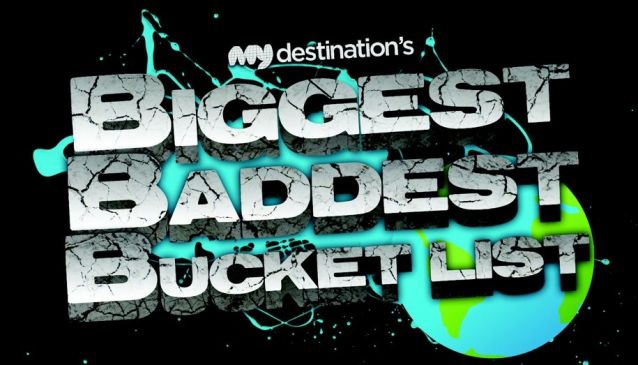 The Biggest Baddest Bucket List - Isle of Wight
Adventure
this global competition could be a fantastic way to spread the word about our beautiful island
The Isle of Wight is encouraging entries into My Guide's recently launched global competition, by offering their own ISLE OF WIGHT COMPETITION… read on to find out why and how to enter...
Heard of The Biggest, Baddest Bucket List?
My Guide's Biggest Baddest Bucket List launched on 28th January 2013. Since then, there has been an incredible buzz going around the global travel community, who are now talking about 'the world's biggest ever travel competition'.
The prize is an amazing all expenses paid trip around the world – Six Months – Six Continents! The winner will choose at least 25 destinations from the My Guide network, meeting the 'local experts' and being able to tick off loads of awesome activities from their own bucket list. They'll be blogging as they go so that we can all follow their adventure! As if that's not enough, when the winner arrives home they'll receive $50,000… about £32,000!
To enter, you have to simply make a video about a destination of your choice – it can be your home town if you like, or maybe your favourite holiday destination? It just needs to be somewhere that you know well. Submit the video, along with a short blog and some photos, then spread the word and start getting votes!
Entrants have until 31st March 2013 to enter. Five of the 'top ten' finalists will be the most voted for entries, but the other five of the top 10 will instead be chosen by staff at My Guide HQ and Ben Southall - the winner of 'The Best Job in the World'... so make sure you get noticed with your super-star personality and reporting skills!
Tell everyone who you know would LOVE this fantastic opportunity and good luck.
MARCH UPDATE: Don't forget, you could enter on the last day and still be able to win! Five finalists will be chosen based on purely on quality and talent... it's not all about votes. The Top 10 finalists will now take part in a great week of activities in the UK from 20th April - all expenses paid and a great experience in itself, along with being a great opportunity for My Guide and guest Judge Ben Southall to meet you all before deciding on the winner.
Isle of Wight Competition
When My Guide Isle of Wight told the Isle of Wight Tourist Board Visit Isle of Wight and local ferry company Wightlink about The Biggest Baddest Bucket list, they were just as excited as us and have decided to get involved.
Why? Well just like us, they can see that this global competition could be a fantastic way to spread the word about our beautiful island. Imagine if the Isle of Wight could encourage lots of video entries about the Isle of Wight, which will be viewed and voted for by people all over the world? Even better, imagine if the Isle of Wight video gets to the top 10 or even wins?!
So, how is the Isle of Wight encouraging video entries about the island?
This Isle of Wight is running its own mini competition, with an additional local prize for all video entries about the Isle of Wight. The Isle of Wight competition is designed to encourage as many Isle of Wight video entries as possible!
(However, the 'mini competition' is completely separate from The Biggest Baddest Bucket List and will therefore in no way influence the outcome of the global competition.)
The Prize
Tom's Eco Lodge is a luxury camping experience (also known as 'glamping') on the Isle of Wight. These outstanding lodges are perfect for extremely comfortable outdoor living, packed full of all the home comforts and facilities you will need for a care-free, wonderful holiday. Tom is kindly giving away a 5 night stay for 4 - 6 people.
Isle of Wight Adventure Activities is the islands leading booking centre for just about all the adventure activities you could possibly wish for! They have an amazing team, who'll make sure that you have a brilliant time, whilst learning something new and feeling safe. Owen and his team are kindly giving away an adventure day for 4 people, including Coasteering and Mountain Boarding!
Wightlink Ferries Wightlink are your link to the island! They will make sure that you have a smooth ferry ride to and from the island for your Isle of Wight holiday and are kindly giving away ferry travel for one car.
How to enter?
Entering is simple. Basically, entry into The Biggest Baddest Bucket List will automatically also include you in the Isle of Wight's own competition. The only condition? Your video must be about the Isle of Wight. You don't have to live here, you just have to know it well enough to make a short video about the destination. The local Isle of Wight prizes are for just one lucky winner. Isle of Wight video entries will be indepentdently judged by Wightlink and Visit Isle of Wight. The winner will be judged once the The Biggest Baddest Bucket List winner is announced.
(IF the winner of the BBB competition is an Isle of Wight entry, a different winner will be chosen for the local prize! If there is no Isle of Wight entry in the BBB top 10, the local winner will be announced early.)
If you love the Isle of Wight – why not enter The Biggest Baddest Bucket List and share our beautiful island with the world?
Full terms and conditions