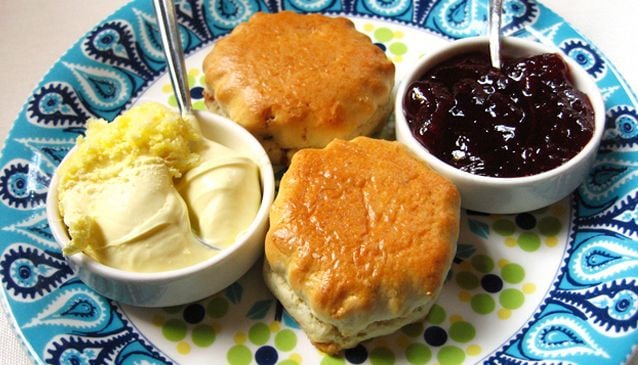 Carnivals, Cream Teas & Cricket...
Arts & Culture
The best of the Isle of Wight is the typically English stuff, because the island does it so well
Being late September, the English summer is now officially over. However as I write this, we are experiencing what we Brits like to call an 'Indian Summer'… it's deliciously warm, with a deep blue sky on this Sunday afternoon. I have been enjoying sitting on Ventnor Esplanade, enjoying a glass of wine at The Met Bar, overlooking the sparkling sea. There is a certain excitement about 'Indian Summers' in Britain - as soon as the weather reader on the TV says the words, we sit up straight and listen intently for 'when, where and for how long?' Perhaps this is because it is our last chance to wear T-shirts in the sun and get the BBQ out before the winter draws in… but if I am honest, it can also make up for the rather unpredictable British weather during the school summer holidays! However, being at one of the most southerly points on the English coast, the Isle of Wight is one of your best bets for a beautiful, sunny spring and summer.
So, what is a British summer? Well, it is not the guaranteed sunshine, warm seas, and balmy evenings guaranteed from more tropical island destinations. However, the Isle of Wight experiences some of the best weather in the UK… we do have lots of sunshine and hot days during our Spring and Summer time, with plenty of 'beach' days – perfect for sunbathing, swimming, picnics on the beach, water sports and even a game of beach cricket! In between these hotter spells, we sometimes have some cooler days, during which although the children seem happy to brave a swim, us grown-ups are probably happier to find a nice beach café or watch from the comfort of a dry picnic rug! However, the Isle of Wight is not just about our beautiful beaches…
The wonderful thing about a British summer is actually that it is NOT the stifling heat that so many of us experience when going abroad… the kind that renders you incapable of 'doing' anything during the days, only venturing out to explore your destination like nocturnal creatures once the sun has gone down! If you are looking for an instant tan and Ibiza style night-life, you could be disappointed. The Isle of Wight will probably not appeal to clubbers, looking to dance the night away in bikinis and sleep off a hangover whilst toasting on a beach! (Not that I'm against that… we've all been there!)
The Isle of Wight however, will appeal to anyone looking for a relaxing, yet fulfilling break, who would like to be as active or as lazy as they chose. Families, couples or groups can all enjoy a superb holiday here. The island is one of the most beautiful holiday destinations in the UK, with stunning countryside and coastline, perfect for walking and cycling to your heart's content. Country lanes, small villages and large towns offer some historic, 'picture postcard' buildings, from pretty thatched cottages to grand Victorian mansions. Other historic sites include the very old and petite 'Bonchurch Old Church', dating back to 1070AD, Carisbrooke Castle and Queen Victoria's holiday home 'Osborne House'.
For those days when you do feel like getting out and about, there are also a huge range of activities and attractions. From sailing, water sports, paragliding and even tree climbing for the more adventurous, to the Isle of Wight Zoo, theme parks and much more for families, there are so many things to do. (One advantage of running My Guide Isle of Wight is finding out about lots of things I didn't even know existed… there are lots places I've still not had the chance to visit, the top one on the list currently being cider tasting at Sharon Orchard!)
When you get hungry, there are many restaurants, pubs and bars, (even a few clubs for those seeking wilder nightlife!) When I first moved over to the island, what I loved is that there are hardly any of the restaurant chains that you see in most mainland areas. Instead, there are mostly independently run businesses, all offering something slightly different. Whether you are looking for great homemade 'pub grub' in a pretty pub garden with a view, such as the Blacksmith's Arms in Calbourne, or fine dining in a restaurant such as The Hambrough in Ventnor, you will be able to enjoy a scrummy summer evening meal.
The best of the Isle of Wight from a local's opinion however, is the typically English stuff. Why? Because the island does it so well! Throughout the spring and summer, there are many events held. I'm not talking about the massive music festivals (The Isle of Wight Festival or Bestival) or Cowes Week, which although are a fantastically huge part of the summer for many islanders and mainlanders alike, are not the 'Best of British' summer I refer to in this article.
This time, I'm talking about the local events: the festivals and fairs, for example 'The Garlic Festival' and the 'Isle of Arts', promoting island produce, artwork and musical talent; the weekly farmers markets selling some of the finest Isle of Wight produce; the town carnivals with fabulous floats and beaming locals in fancy dress; not forgetting of course the small village fetes with splat the rat, hook a duck, Victorian sponges and scrumptious Cream Teas.. It is during these events that the community comes together, welcoming visitors into the mix too, to celebrate everything the Isle of Wight has to offer and everything that makes the island an interesting, welcoming, proudly British yet unique destination. You will also see regular gatherings for village events, such as a friendly game of Cricket on St. Helen's green, which can't help but make you smile!
(These local events continue throughout the winter too - there may be less visitors from November to March due to the colder weather, meaning a quieter winter… but the island still keeps going with plenty to see and do and events to celebrate Halloween, Bonfire Night and Christmas.)
The Isle of Wight may not be a tropical island, but we have a 'British summer' to be proud of! If you feel the need to jet off to guaranteed heat abroad, I can't say I blame you! On the other hand, you could visit the gem of the south coast – the Isle of Wight… there's a reason people visit here year after year, come and explore something new?