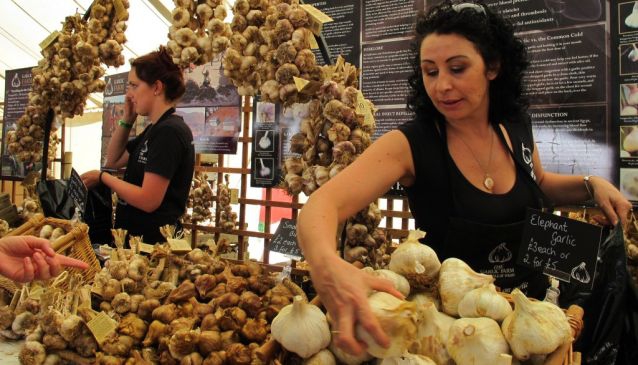 The Garlic Festival
Family Fun
The Garlic Festival is not only about garlic!
The Garlic Festival is one of the most popular annual events on the Isle of Wight. Having been set up by organisers 'The Garlic Farm' in 1983 (in order to celebrate the garlic harvest and as a fund-raising event), the Garlic Festival has now grown into a major Isle of Wight event, visited by around 25,000 people each year. Visitors travel from all over mainland England to visit The Garlic Festival!
Originally, the festival was all about the garlic. Of course, these days the emphasis is still very much on the delicious, full flavoured and expertly grown Isle of Wight garlic. The Garlic Farm marquee and kitchen are without doubt the most popular features, with most visitors stocking up with a good supply of this high quality garlic and tasting all sorts of garlic infused fresh food! The friendly staff are on hand to give you excellent advice about which of the vast array of garlics that might suit you, cooking tips and even how to grow garlic of your own.
However, The Garlic Festival is not all about garlic! This lively festival is a great day out for the whole family. The live music plays a big part in the entertainment, with various bands on stage with something to please everyone. People enjoy spending a lazy afternoon relaxing in the sunshine with a beer or local cider, perched on bales of hay or lying on their picnic rugs. Those feeling more energetic, get up and have a good old boogie at the front of the stage!
Other entertainment includes an eclectic mix of dog shows, falconry displays, magic acts and even some ghost stories. The fairground rides are plentiful and are very popular with kids and grown-ups alike. For those who enjoy classic cars and military vehicles, you will not be disappointed. Not to mention the wide range of local produce, food stalls, arts and crafts, plant stalls and even wooden garden furniture – there's plenty to see and do.
Thinking of visiting The Garlic Festival on the Isle of Wight? Click here to find out about when you can enjoy The Garlic Festival 2013.
See more Garlic Festival photos on our Facebook page.