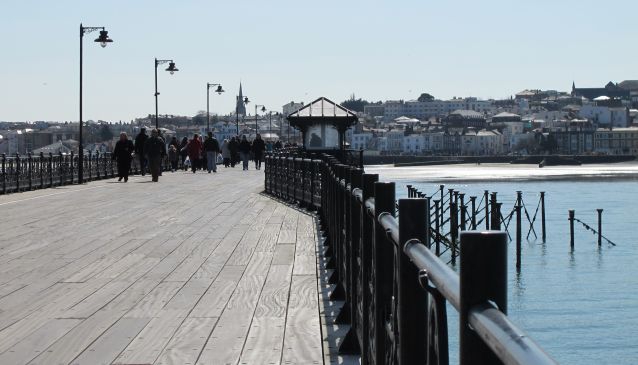 The Oldest Pier in Britain
Arts & Culture
Having opened for the first time in July 1814, this much loved seaside pier is nearly 200 years old.
Ryde Pier
Ryde Pier on the Isle of Wight is Britain's Oldest Pier. Having opened for the first time in July 1814, this much loved seaside pier is now nearly 200 years old. These days, the pier is still vital to Ryde town and the Isle of Wight, as the home to one of Wightlink's ferry terminals linking the island to the mainland England. The pier supports both the Isle of Wight train which still travels to the end of the pier, plus is open to cars with a car park for Wightlink customers.
Party on the Pier
Party on the Pier originally started in 2011 to celebrate the pier re-opening to traffic, after being shut for a while due to essential maintenance works… not surprising really, she's an old lady now! Wightlink are now holding the event once a year to celebrate this superb part of British history. This year celebrated 200 years since the laying of the foundation stone. Every year this Isle of Wight event is growing and you can expect next year to be even better, celebrating the pier's 200th birthday.
Party on the Pier 2013 was traditional, great British fun. Having been usually cold for spring so far, this much milder, sunny day bought plenty of tourists and islanders. The pier always looks her best when the sun is shining of course – with blue sea all around and the beautiful wooden and iron design being a credit to Ryde town.
One of the main highlights of the day was the Medina Marching Band, who marched the length of Ryde pier, bringing with them lots of people from Ryde Esplanade rather like the Pied Piper! Platform One (in partnership with the Isle of Wight College) bought some extremely talented local bands to the stage, keeping the crowds entertained.
There was plenty to see too, with a variety of cars from the Island Classic Car Show, along with modern motor bikes from Isle of Wight Speedway and even a couple of racing cars. There were also quite a few stalls to browse around, not to mention the ice-cream van of course where many people would have been enjoying their first ice cream of the season! The event also supported the Earl Mountbatten Hopsice and St.Catherine's School.
Wightlink Ferries
If you would like to come and see Britain's oldest pier, you can pop over on
Wightlink's fast catamaran
service from Gunwharf Quays in Portsmouth. There is a train station at both ferry terminals for a direct link, plus a bus station on Ryde Esplanade… so this makes a perfect day out to see some of the Isle of Wight. Check out the video of the journey below.