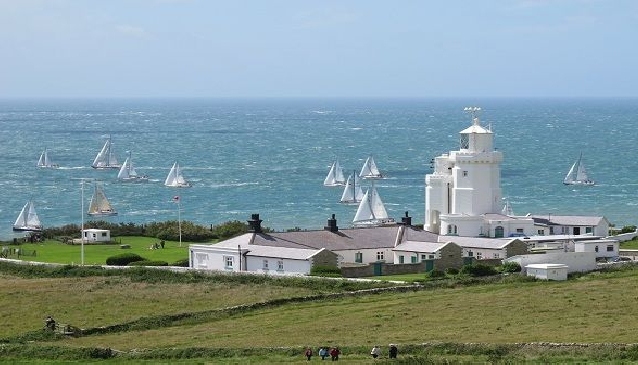 The Round the Island Race
Adventure
Watching the boats sail by with their colourful spinnakers is truly a breath-taking sight to see
The J.P. Morgan Asset Management 'Round the Island Race' (Isle of Wight) is one of the main sailing events to take place on the island each year. This annual highlight of the Isle of Wight events calendar usually attracts around 1,600 boats and over 15,000 sailors, making it one of the largest yacht races in the world and apparently the fourth largest participation sporting event in the UK after the London Marathon and the Great North and South Runs! As the name suggests, it is a sailing race around the Isle of Wight, starting at Cowes. Along with 'Cowes Week' the Round the Island Race is one of the key events in the global sailing calendar.
However, although it's a sailing event, you don't have to be a sailor to take part in this spectacular day. As a spectator, watching the many boats sail by with their colourful spinnakers is truly a breath-taking sight to see! The sheer amount of boats (I'm guessing easily 100+ at any one time from the best viewpoints) is a sight you're unlikely to see too often!
In previous years I have usually perched in one place, with lunch and a little tipple, happily watching the boats sail by. So this year for Round the Island 2012, I decided to do it properly and instead followed the one day event around the island (well, half of it), starting my journey from St. Catherine's Point and following the sailing boats round to
Cowes
. I write this feeling quite tired but invigorated by the fresh sea air, having visited several places and admired our beautiful coastline from many of my favourite spots. I took lots of
Round the Island photos
, and this Round the Island Race
video
on my way round…
The Round The Island Race 2012, Isle of Wight
30th June 2012 has been a wonderful Round the Island Race. Plenty of wind for the sailors meant a bracing breeze for the thousands of spectators dotted all over the Isle of Wight's coastline. It may not have been wall-to-wall great
Isle of Wight weather
like some years previous, but it was certainly a fantastic day out! The beautiful sight of these peaceful boats sailing quietly by the stunning Isle of Wight views was both heart-warming and impressive. From St. Catherine's, to
Ventnor
, to
Bembridge
, to
Seaview
and Cowes, the experience is highly recommended. St. Catherine's and Ventnor were particularly good viewpoints, as the boats come really close to the shore here. Next year, I shall make sure that I'm up early enough to cover the first half of the race, as
Colwell Bay
,
The Needles
and
Compton Bay
in the West Wight are also apparently wonderful viewpoints!
Be sure to join us next year on the Isle of Wight, for the Round the Island Race 2013.