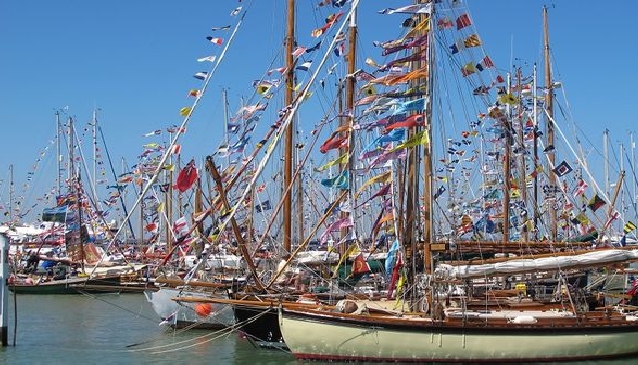 Yarmouth Old Gaffers Festival
Arts & Culture
...beautiful traditional sailing boats, draped in flags, flapping gently in the breeze...
At this time of year, the Isle of Wight's calendar of events starts looking pretty full, which always gets me really excited about the summer months ahead. There's so much going on, that we really are spoiled for choice on the Isle of Wight. However (between you and me) Yarmouth's Old Gaffers Festival is one of my favourite Isle of Wight events. And I'm not the only one, judging by some of the comments left about these Old Gaffers Festival 2012 photos I enjoyed taking whilst there! Of course, you only need to see the thousands of people who flock to Yarmouth every day during the three day festival, to see how popular Gaffers has become… and it just keeps getting better and better!
On Friday 25th May 2012, due to being the Queen's Diamond Jubilee next weekend, this year's Old Gaffers Festival was opened by 'The Queen' – well a very good lookalike of her anyway! Local celebrity and singer Derek Sandy, (who you may also recognise from Channel 4's Come Dine with Me) is always a hit, with entertainment carrying on into the night. Radio 1's Rob Da Bank headlined Friday night's entertainment, with people up dancing on the stage by the end of the evening.
With the combination of a wonderful heat-wave and the joy of the weekend, Saturday bought many more visitors and Isle of Wight residents alike. Step out of the Wightlink ferry terminal at Yarmouth and you are there, slap-bang in the middle of everything! So, it's no wonder that people travel the short stretch of water over the Solent from the mainland for this top Isle of Wight event. We drove to Yarmouth at around midday, by which time the place was swarming with happy festival goers. We parked in a nearby field, just over the bridge for £5 a day. There is also the council car-park of course, if you are lucky enough to get a space, or a park and ride option, a short drive from Yarmouth.
Walking into Yarmouth, the first thing you can't help but notice is the Old Gaffers themselves: beautiful traditional sailing boats, draped in flags which are so eye-catching, flapping gently in the breeze and filling the blue sky with an assortment of vibrant colours. In the harbour, these stunning boats happily bobbed up and down, carrying cheerful sailors who were relaxing in the stunning Isle of Wight weather enjoying their lunch and tipples! We were immediately drawn to some merriment coming from the deck of a beautiful old yacht moored up nearby. I found myself captivated by the sailors' shanty, being sung brilliantly by 'The Crew'. Although the Old Gaffers Festival was originally set up as a gathering for these boats, over the years it has turned into a festival for sea-lovers and land-lubbers alike!
Moving through Yarmouth harbour, the shoreline was bustling with people chilling out and quenching their thirst at the beer tent, whilst listening to the live music from the main stage. Toe tapping, smiling and sunbathing in the warm breeze, I felt I had landed somewhere in the Mediterranean! Heading into the town, there were many stalls to tempt us, offering all sorts from handmade, chunky wooden garden furniture, to clothing and hats, to homemade preserves… just about everything you could think of. However, being lunchtime, it was the smell of Paella and sizzling burgers that won us over!
Throughout the afternoon, we wandered around, a drink or Calbourne Classics ice-cream in hand, enjoying the various different types of Isle of Wight activities on offer. The street entertainment we saw this year included: the hilarious, fire-juggling and unicycle riding street entertainers Vince and Richard; traditional Morris Dancers 'Men o' Wight'; a lively and talented Samba Band 'Fat Samba'; the deliciously daring Bloodstone Border Morris Dancers; and a folk music group who I unfortunately did not catch the name of but who were excellent!
Buzzing from the exhilarating music and entertainment, we strolled across towards Yarmouth Green. With more stalls lining the pavements, we resisted the mouth-watering crepes and milkshakes, walked past the giggling and screaming children on the charming little fairground rides and the huge slide, making our way eventually into the Arts and Crafts tent. For any who love buying from talented crafters, who produce quality hand-made art, textiles, carpentry and tasty treats, you would not have been disappointed! Unless of course you have already spent your cash on food like I had. Note-to-self: don't be so greedy and save some money for the pretty things in the tent!
Last but not least, we ventured over to the main car park – next to which you will find all sorts of classic vehicles to admire. Engines, classic cars and chunky army trucks, there is an automobile for all occasions. Now, I won't even bother pretending that I know much about what I was looking at, but that doesn't mean to say I didn't find it good fun looking at all the shiny cars! Make sure you check out the photos though and I'm sure you will be able to teach me something!
Feeling fulfilled and very content from our afternoon's activities, we rounded off the afternoon in the pub. Glancing around, everyone seemed to be feeling the same – enjoying the glorious weather and this fantastic annual event in Yarmouth, abandoning all 'every-day' worries and hassles and instead choosing to soak up the rather special atmosphere, sights and sounds. Of course everyone's experience of the Yarmouth Old Gaffers Festival on the Isle of Wight will be different. There was so much that we missed and so much else that we would have liked to have seen, tasted and listened to. However, there is one thing that I would imagine that most people would agree with… if you are looking for a traditional, yet lively and fun event on the Isle of Wight, the Old Gaffers Festival in Yarmouth is not to be missed!
Did you know?
A 'Gaffer' is named after the 'rig' that it uses. Many original gaff-rigged boats, both yachts and working craft, have been preserved and are still sailing today, some more than 100 years old.
The first Old Gaffers Festival, organised by Dave Keller (a keen sailor and Secretary for the Solent area Old Gaffers Association) was held in Yarmouth during the summer of 1997. Around 50 boats turned up.
These days, around 100 boats turn up and fill Yarmouth Harbour.
The Festival costs around £80,000 to stage! However, the Old Gaffers event is largely free to attend, with all day entertainment. That's why there are small charges for car parking, tickets for the evening sessions and for the stall holders. The organisers also rely on the financial generosity of local businesses and the main sponsors Wightlink, Yarmouth Harbour Commissioners and Southern Vectis Bus Company.
The entire event is organised by a group of around 20 volunteers! (Well done guys… hats off to you.)
The local Police kindly support the Gaffers festival by volunteering their services in their free time. Their presence over the three days helps to keep it a safe and enjoyable weekend. Local organisations (e.g. Scouts, Girls Venture Corps & W.I.) and individuals also offer their help – true community spirit!