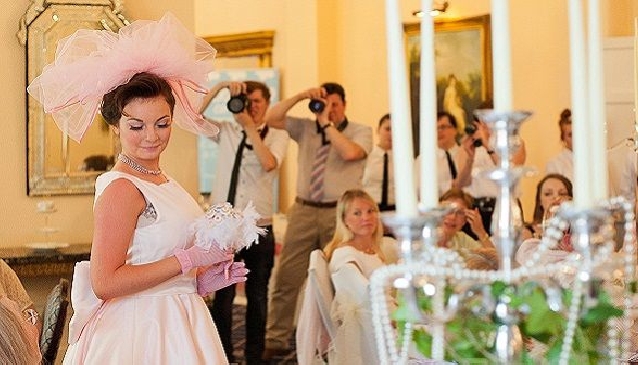 A Royal Wedding on the Isle of Wight
Arts & Culture
The Isle of Wight is arguably one of the most beautiful wedding destinations in England
The Isle of Wight is arguably one of the most beautiful wedding destinations in England. With some of the best weather in the UK, stunning landscape, beautiful coastline and plenty of places to stay, Isle of Wight wedding companies report up to 40% of their business coming from island visitors. More and more people are planning to spend their special day on the island, also due to there being plenty of quality Isle of Wight wedding venues, wedding planners, services and products to choose from!
A Royal Wedding?
On Sunday 27th May 2012, The Royal Hotel in Ventnor hosted its first 'Bridal Champagne Tea'. This was a chance for brides and grooms to come along and experience a little taster of what The Royal and their wedding suppliers can offer couples wanting to get married on the Isle of Wight. Organised mainly by Karen Robb of Dornellie (along with The Royal Hotel) the event was a great success, being fully booked. Brides and their companions enjoyed the opportunity to explore the hotel and bridal suite, meet the suppliers and see their work, admire wedding dresses and accessories being modelled, along with sampling a delicious Bridal Champagne Tea.
Video Credit: Joe Briscoe at WIGHTvid
The Royal Hotel is one of the most well-known high quality hotels on the Isle of Wight and makes the ideal wedding venue. Built in 1832, the Royal's guests have included many crowned heads of Europe, including Queen Victoria herself. However, whilst The Royal Hotel is very elegant and grand, with beautiful grounds and luxurious surroundings, there is also an extremely relaxing and friendly atmosphere. With over fifteen years of experience, the hotel prides itself on making a bride's dreams come true. The dedicated events coordinator can help you plan every aspect of your day, with several wedding packages to suit all budgets.
The Royal Hotel, Ventnor - A 360 Virtual Tour! (Hover over the VT to select more views.)
Below are all of the wedding companies who attended this event, offering quality wedding services for 'Royal Weddings':
Dornellie - Making bespoke, hand-crafted wedding veils and headpieces… and now wedding dresses also! Karen worked very hard organising the Bridal Champagne Tea.
Wight Vintage – Vintage crockery and tableware hire for various events, wedding planners, afternoon tea and party catering, cake stands.
Chris Cowley – Chris Cowley is an Isle of Wight Wedding Photographer, who captures the essence of your special day on film, with creative shots which will remind you of memories to cherish forever. Many thanks to Chris for providing us with the photos for this article!
Harmony Beauty – Provides beauty treatments and also specialises in special events make-up, island wide for all occasions.
Isle of Wight Pearl – The Isle of Wight Pearl houses one of the largest selections of pearl jewellery in the UK, pure and simple for a beautiful bride.
Inspired Island Events – An Isle of Wight wedding and event decoration business, dedicated to beautiful venue styling. Free consultations.
I Heart Buttons – Creating unique button bouquets, each wedding bouquet is hand-made on the Isle of Wight, using a combination of new and vintage buttons.
Marinelli Designs – Creating luxurious, handcrafted wedding invitations and stationary, using the highest quality materials and ensuring a unique result every time.
Scotts Hair Salon – Inspired by iconic styles from the most glamorous decades on the 20th Century, stylists can re-create the vintage look with a modern twist, including fabulous looks from the 1920's to the 1980's.
Tickety-Boo Cupcakes – Specialising in bespoke cupcakes and cakes in classical vintage or stunning contemporary designs, all made to theme and colour coordinated for your special day.
Chocolate Apothecary – Handmade chocolates and cakes from a dedicated team, including a patisserie chef. Special dietary needs can be catered for.
Sarah Matthews Flowers – A Ventnor florist offering beautiful flowers for your day.
Emma Watts Photography – Specialising in Wedding Photography, Emma is a talented Isle of Wight Photographer.
Article photographs credit – Chris Cowley, Isle of Wight Wedding Photographer