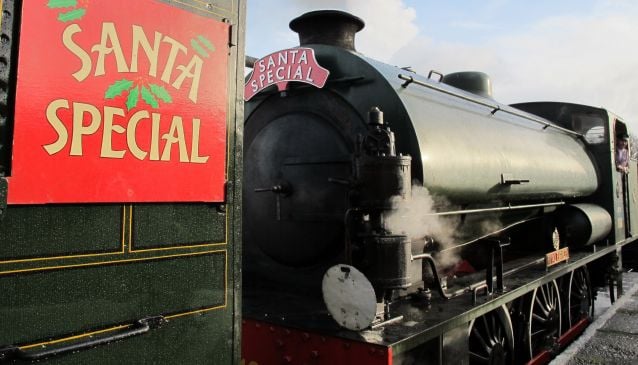 Christmas at the Isle of Wight Steam Railway
Adventure
Combining the usual excitement and charming character... with the magic of Christmas!
Christmas at the Isle of Wight Steam Railway is a fantastically festive family event, bringing us 'Santa Specials', 'Mince Pie Specials' and 'New Year Specials' throughout the Christmas season. These selected days throughout December and on New Year's Day certainly do deserve be labelled 'special', combining the usual excitement and charming character of the historical IW Steam Railway, with the magic of Christmas!
Throughout December, the Isle of Wight Steam Railway is enchanted with the spirit of Christmas. The children will love visiting Santa in his grotto. There may be a short queue to see the jolly fellow, but fear not... there won't be any grumpy children waiting to see Father Christmas. Instead, you wander through a wonderland of pretty lights, toy trains, tiny people and talking reindeers... a spectacular snow scene that takes the staff a good few weeks to set up!
Entertainment includes a large marquee with a traditional fairground ride, stalls selling Christmas gifts, along with children's shows and magic shows. When we visited, there were some fluffy alpacas who greeted us with great interest, wondering what the camera was. Dressed in their reindeer antlers and frilly collars, they seemed to be enjoying the festive cheer too!
Included in the price of the ticket is mulled wine, wine or a soft drink and a mince pie - so don't forget to go and warm yourselves up in the marquee with that. There is also the Elves' Kitchen to buy other drinks and snacks and the shop selling all sorts of toys and gifts.
Of course not to be forgotton, due to being the main reason for a visit to the IW Steam Railway at Christmas, is a ride on the traditional steam train. This is fantastic fun at any time of the year, although at Christmas it seems particularly fitting... packing into a cosy carriage with friends and family, to enjoy an exciting ride through the beautiful countryside, whilst steaming up the windows and having a giggle with your loved ones. If you catch the staff at the right time at Haven Street Station, you may even be able to sneak a peek inside the engine itself and warm up by the furnace.
For each of the Isle of Wight Steam Railway Christmas specials, you can pre-book your tickets in advance through their website. Popular with locals and visitors alike, it's a good idea to book up early.
We loved our visit... check out our Isle of Wight Steam Railway video above and our PHOTOS on Facebook. Merry Christmas!