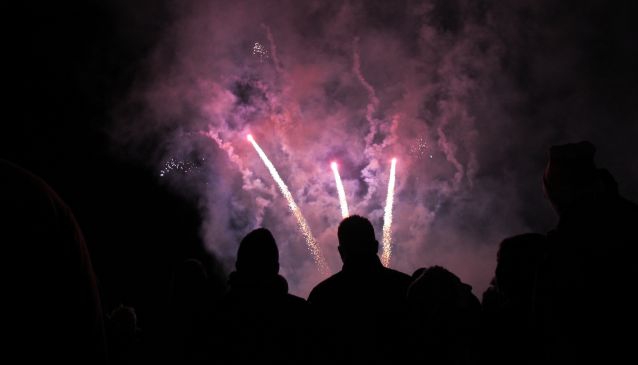 Gunpowder, Treason and Plot!
Family Fun
Guy Fawkes, who plotted against King James I... planning to blow up the Houses of Parliment
Fireworks Night on the Isle of Wight
The
Isle of Wight
hosts several big fireworks displays for November 5th. They are all very popular, with a great sense of community spirit and celebration. The main events take place in
Yarmouth
,
Sandown
,
Newport
and
Arreton
.
This year, we visited the
Arreton Old Village
Firework & Bonfire Night – and what a fantastic night it was! The night starts with a torch light procession, carrying the Guy through the crowd. On reaching the bonfire, the Guy is hoisted up onto the top of the huge bonfire. Standing back, the torch bearers then set light to the beast of a bonfire! The following fireworks display is very impressive, lasting around 15 minutes and wowing the hundreds of spectators.
So what's Bonfire Night all about?
On the fifth November every year, Britain celebrates 'Bonfire Night' (also known as Fireworks Night or Guy Fawkes Night)… a tradition that dates back to 1605. "Remember, remember the fifth of November… gunpowder, treason and plot!" The idea is that we remember Guy Fawkes, who plotted against King James I with some others, planning to blow up the Houses of Parliament by planting barrels of gunpowder in the cellar. Of course, Guy Fawkes was caught, then hung, drawn and quartered… Not a pleasant ending!
These days, although us Brits no longer see Guy Fawkes as a villain, or see Bonfire Night as a warning about plotting or treason, we still love to head off into the cold, dark night wrapped up in hats and gloves to watch some fireworks and smell the smoke in the air! The loud explosions, whizzing through the sky and lighting up the watching crowd in glorious colour, are quite a sight. Standing with loved ones enjoying the display, people stand and take it all in, with a few 'oohs' and 'ahhs' in appreciation of course!
'Bonfire Night' events do not always have a bonfire anymore. We now have 'Fireworks Night' too – it can be called either of course! However, personally I am always drawn towards a fireworks display with a massive, burning bonfire, built up high with the traditional 'Guy' on top. The heat from the flames of the fire is somehow comforting and adds to the warm fuzzy feeling yiou get while watching the fireworks, which breaks through the cold night air.
So, although the meaning of the night has been pretty much lost since people would have first started the tradition over 400 years ago… for most people, Bonfire / Fireworks Night is something that is cherished and enjoyed, having developed into a wonderful family event that we look forward to every year.
(Check out more
photos
of the night on the My Guide Isle of Wight Facebook page!)