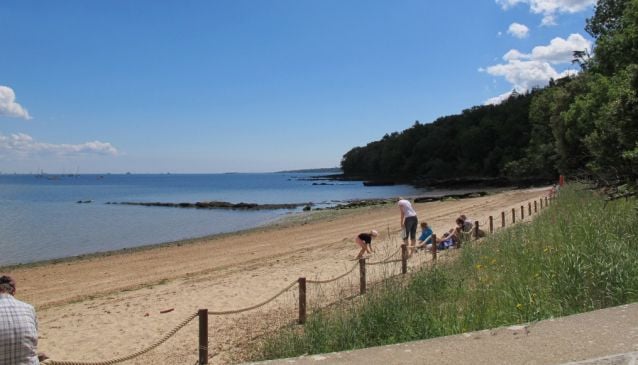 Queen Victoria's Beach
Editorial
...enjoy a 20-minute stroll down to the beach, through the Osborne House grounds...
From 27th July 2012, what was once Queen Victoria's own private beach at Osborne House on the Isle of Wight, became open to the public! Never before have we been able to visit the beach at which Queen Victoria had her very own bathing machine and took her first ever dip in the sea. Speaking of her beach, she wrote in a letter, 'it is impossible to imagine a prettier spot.'
During Victorian times, people were encouraged to visit the seaside by health professionals, with the fresh sea air and the sea water being promoted as extremely good for your health. With expanding railways and the fact that Queen Victoria herself was embracing the benefits of residing by the sea, seaside holidays became extremely fashionable amongst those who could afford to travel to the coast during their weekend breaks. Throughout Queen Victoria's reign, as she spent much of her time with her family at Osborne House in East Cowes, the Isle of Wight flourished and grew beyond recognition. Many new buildings and attractions were developed and the steam railway network reached the island, making it one of Britain's most popular holiday destinations…which is how the Isle of Wight became a very Victorian island!
Osborne House was re-built and completed under Queen Victoria and Prince Albert's instruction in 1851. The beach at the foot of the house grounds was visited regularly by Queen Victoria and her family. Her large scale bathing machine enabled her to get changed with the help of a maid, to be wheeled out to sea and then to bathe in the bracing sea-water, under shelter and with her modesty preserved.
The modern day beach at Osborne House is an absolute treasure and well-worth visiting. English Heritage have preserved this beautiful beach extremely well, with its abundance of wildlife, flora and fauna preserved and protected behind rope barriers. When visiting the beach, the experience is truly charming, helping you to imagine what a traditional, Victorian beach trip might have been like. The atmosphere is very British, with a relaxed, friendly and very welcoming feeling created by the English Heritage staff and visitors alike.
Take a peek with our short video of Queen Victoria's beach at Osborne House
During the summer holidays, there are regular authentic 1850's 'Punch and Judy' shows, which are extremely entertaining and many years on are still a huge hit with both children and adults. Between the puppet shows you can also enjoy a small brass band playing upbeat classics, which will get your toes tapping, whilst transporting you back into Victorian times. There is also an ice-cream stand, a small beach café and even changing rooms for those of you wanting to take a dip yourselves! Access to the beach is included within the general admission fee and you can either enjoy a 20-minute stroll down to the beach, through the Osborne House grounds, or take a 7 minute mini-bus ride directly to the beach.
Osborne House is a truly stunning and beautifully historic building, with breath-taking grounds and a fascinating 'royal' interior. Already a wonderful Isle of Wight attraction, the opening of Queen Victoria's beach is already proving to be an extremely popular addition to this grand day out.