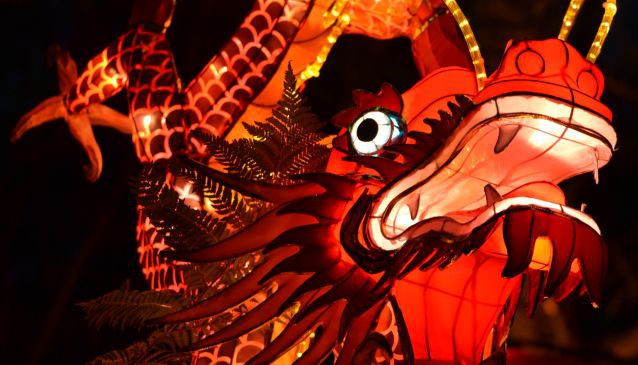 The 'Spirit of the Orient' arrives at Robin Hill
Arts & Culture
...the Spirit of the Orient lights up 'The Electric Woods' as you have never seen before!
This February half term on the Isle of Wight, the popular tourist attraction Robin Hill Adventure Park and Gardens has opened its gates (for the first time ever at this time of year) for a very special event. Celebrating all things Chinese in order to mark the Chinese New Year, the Spirit of the Orient lights up 'The Electric Woods' as you have never seen before! In addition to this, there are various shows put on throughout the afternoon and early evening in the amphitheatre, plus other features dotted around such as the Oriental Tea House.
The Electric Woods was a new feature to the park last summer and is now one of our favourite attractions on the Isle of Wight. After dark, the woods are lit up with stunning lighting, creating a really enchanting atmosphere. It's well worth a visit… but with the Chinese style lanterns and decorations carefully placed and lighting up the woods even further, it really is a sight to see. We were able to capture some of the sights on video, although we must admit that on this occasion the camera does not really do it justice – best seen in person to really appreciate it! We took some pretty cool photos too.
Along with the fantastic decorations lighting up the woods, shows are running in the amphitheatre throughout the afternoon and into the early evening. These include an owl show, a traditional Chinese lion dance and fire performers. They are repeated so don't worry if you miss the first showing. On selected evenings there is a martial arts demonstration too.
If you fancy trying some Chinese tea, head to the Oriental Tea Rooms. If you are hungry, how about some noodles sitting by the beautiful woodland ponds, enjoying the peaceful music and magical atmosphere within The Electric Woods?
Spirit of the Orient is taking place all February Half Term – 16th to 24th from 10am to 8pm daily. For further information and contact details, see our Robin Hill page. Once you have paid for entry once, you can visit again at any time during the 9 day event, for free!
The Isle of Wight is a fantastic place to visit all year round – come and support this wonderful event and encourage more attractions to open their doors during the Winter season! Wightlink are offering a great value for money package for this event… a Day Return Car Ferry, plus Robin Hill tickets for 4 at just £55.00, or a one night short stay for £65.00. Click here for more information.
Follow My Guide Isle of Wight on Facebook or Twitter to keep updated on future Isle of Wight events.