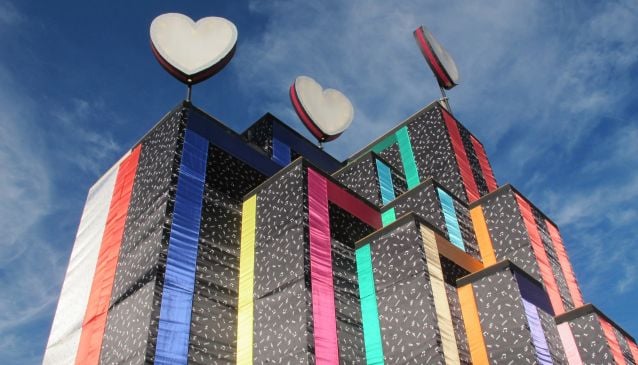 Bestival 2012
Arts & Culture
Bestival is a refreshing, vibrant, unique festival...
In early September each year, Bestival brings tens of thousands of music lovers over to the Isle of Wight. This four day festival is mainly organised by BBC Radio 1 DJ (and all round talented guy!) Rob Da Bank. Bestival 2012 took place from 6th-9th September and was the biggest so far, now having reached the same numbers as the more 'mainstream' Isle of Wight Festival, with 50,000 people coming over to the island this year. It's now one of the biggest Isle of Wight events in our already brimming calendar.
So, the Bestival Experience? I am now rather ashamed to admit that 2012 was my first ever Bestival… and boy was I missing out! Why have I not been before?! Bestival can be seen as an 'alternative' music festival, ultimately rooted in dance music but also offering a huge variety of music and talent, including many less known bands along with some bigger artists. Rob Da Bank hand picks the music, with the aim of basically getting some great music at the festival rather than worrying too much about getting the big, famous headliners of the day to draw in the crowds. It's a winning formula which more and more people flock over to! Having said that, this year Florence + The Machine, New Order and Stevie Wonder were pretty big headliners and the crowd loved them!
See our Bestival 2012 photos on the My Guide Isle of Wight Facebook page!
Here is our Bestival 2012 video…
Bestival is a refreshing, vibrant, unique festival with a character and life of its own. Being hosted in the beautiful grounds of Robin Hill adds to Bestival's artistic and colourful vibe, allowing a free-flowing and much more interesting setting than many festivals, with various areas to wander around without feeling packed in like sardines! However, the setting aside, Bestival itself has a unique feel all of its own. Festival goers are all very friendly and chilled out, creating a brilliant atmosphere!
Every year, Bestival has a theme – the chance for people to dress up and have a bit of fun. This year it was wildlife. The effort everyone goes to is fantastic… you feel the odd one out if you don't go in fancy dress so it's a great way of releasing any inhibitions and uniting festival goers.
With music at the heart, there are many different stages for all the different artists, bands and DJs. Unlike some festivals where most people tend to head for the main stage, there's so much great music going on that you don't feel the same central pull. Around every corner you turn, there is more great music. However, Stevie Wonder (the Sunday night headliner) made Bestival history this year, pulling in the biggest main stage crowd that has apparently ever been seen! Well done Stevie, you were amazing!
Around the Bestival site, there is so much to see and do. It's not all about music! With traditional fairground rides, a variety of entertainment and comedy acts, The Wall of Death motorcycle tricks, charming little cinemas, The Ambient Forest, arts and crafts, plenty of quirky bars – you can amuse yourself for hours!
Last but not least… the camping experience. Well, with stunning weather we were all very fortunate. Everyone in the main campsite looked like very happy campers to me! However, I won't deny that I perhaps cheated a little, as I enjoyed the added luxury of staying in the 'Tangerine Fields' this time. Having been to other festivals where by the end of the weekend the corner of the field was much more appealing than the porta-loos and much quicker to access, when
Tangerine Fields
invited me in it was a very exciting prospect. I was not disappointed… with tent already up on arrival, plus a very comfy airbed and sleeping bags ready and waiting for us, this alone made things so much easier. The toilets were flushable and clean, never running out of loo roll, with a sink to wash your hands! Yes… a sink with running water, hurrah! Not to mention the shower block, hairdryers and straighteners, plus electricity point to charge up your phone etc.
'Luxury Camping' at a festival may be seen as cheating by some… a bit like some people say that caravans are not 'proper' camping! However, when you've been dancing for hours and on your feet most of the day, if you are happy to spend a little extra, the additional comfort is worth it.
Bestival 2012 was an awesome experience. Will we be going to Bestival 2013? Just try stopping us! See you there?
Here are some official Bestival 2012 video highlights…
Video credit: 'BestivalTV'