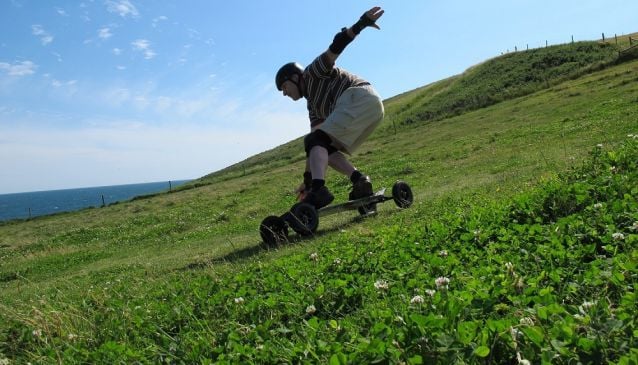 Looking for Adventure on the Isle of Wight?
Adventure
...navigate the rocks...explore caves and jump in the sea
If you are looking for an active holiday with plenty of activities and things to do on the Isle of Wight, you will not be disappointed! With walks and cycle paths galore, not to mention the stunning Isle of Wight beaches and the water-sports opportunities they provide, there will never be a dull day.
So, where do you go if you don't have your own gear or would like to try something different? Not many of us have our own Kayak to hand and we don't tend to go Mountain Boarding very often! Well, that's where a fantastic company like the Isle of Wight Adventure Activities Booking Centre can help. Based in Freshwater Bay behind the main car park, they offer a wide variety of outdoor pursuits, with sessions running throughout the day, 7 days a week. Whether you just fancy a couple of hours of fun, or would perhaps even like to spend the day learning lots of new activities with your friends and family, IOW Adventure Activities are fully equipped with all the necessary safety equipment and well-trained staff, to ensure a safe and care-free experience.
My Day with Isle of Wight Adventure Activities
I'm an outdoorsy type, so when the chance to spend time making a video for these guys arose, I jumped at the chance. It was a beautiful day in Freshwater Bay, with the sun beating down on the calmest sea I had seen in a long time! Needless to say, this was perfect – not only for the lucky kayakers and coasteerers, but also for me as this meant it would be safe to take my very much NON waterproof camera out on a kayak! Hurrah!
Once we met our friendly, energetic instructors, there was a buzz whilst everyone got dressed up in all the necessary gear. There were two groups both going out into the bay. The first group was kayaking and the second group was coasteering! What is coasteering? Well I hadn't heard of it either… but it looks amazing and although I couldn't jump in myself with my camera, it's definitely on my 'to do' list now. You basically navigate the rocks around a short stretch of our beautiful coastline, exploring caves and jumping into the sea!
After a quick land-based training session, safety talk and warm up session, I departed with the Kayaking group. I have done kayaking before, but have never really gone very far or felt very confident about what I was supposed to be doing! However, this group session was fantastic… with two whole hours you can really practice the skills properly, feeling the progress you make in your confidence levels and ability. I quickly became envious of another group who had paddled off to The Needles earlier! However, finding our little excursion along the coast from Freshwater Bay pretty physical, I think I'd need to build up a little more muscle first before attempting a longer trip. Being a calm day, the Kayak group were also able to explore caves, have a swim and even clamber onto the rocks to enjoy the exhilaration of jumping back in! Meanwhile, the coasteering group were having a wonderful time with IOW Adventure Activities owner, Owen. It was great fun videoing their adventure from my kayak, all the time wanting to jump in and cool off myself!
Isle of Wight Adventure Activities offer much more than just water-sports. In the afternoon I went off to their Archery site at The Apple Farm, to check out what they were up to. There's something about a bow and arrow which is very primitive and satisfying! The instruction was very clear and with safety and technique being priority, the activity-goers seemed to be doing really well.
Finally, I spent some time with a group who were mountain-boarding. This is basically a cross between snow-boarding and skate-boarding… a snow-board on wheels?! It looked pretty hard to me. However, with excellent instruction on how to land safely and of course the techniques needed to take on this large hill, the enthusiastic group of family and friends soon started picking up the basics, growing in confidence and challenging themselves further each time. The instructors also did some fun team-building games with the group, which got them roaring with laughter and having a brilliant time. Whether you are a beginner or have had a go at mountain boarding before, the well-trained staff will adapt your session to make sure that you get the most out of your session with them.
I came home from my Isle of Wight Adventure Activities experience, feeling utterly exhilarated and motivated – and I had only taken part in the Kayaking! If you are looking some adventure on the Isle of Wight, I highly recommend Owen and his team. Also acting as a booking centre for various adventures across the island, they will be able to organise your ideal Isle of Wight activity for you… from tree climbing to orienteering.